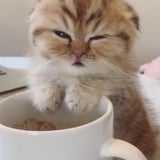 One too many sips *no coffee was drank in the making of this video* from aww
As someone who would never identify as a morning person, I immediately felt a kinship with this adorable striped kitten dozing off over its morning cup of coffee. Basically just a sleepy ball of fluff, the tired little friend has to prop itself up on the lip of a coffee mug just to stay standing upright. The video, shared by Reddit user Ms_marylou, is jokingly captioned "One too many sips" - but it's clear that this kitten didn't actually drink any coffee. Still, from the look on its face, this little one is definitely in need of a cat nap.
As cute as it is to see the kitten's tiny paws cling to the edge of the mug, I hope it finds some time to curl up on the couch and catch some zzz's soon. Watch the full, adorable video here, and check out these supercute Halloween costumes for cats while you're at it.